They Don't Have a Card for That…
Recently, a boy I've been flirting with for years asked me out on a(n) all night fuck party date.  You know, the usual.
…except I was suppose to get my period.
We've all been there. Mostly you stay home in your "given up" grey sweats, being bloated, moody, and stuffing your face with corner store ice cream. But wouldn't you want the option to be prepped and ready to fuck when opportunity strikes?
After waiting for so long I wasn't going to let a silly little scheduling conflict ruin my chances for what turned out to be mind blowing sexual adventures. I did what most have done: I kept taking the pill every morning to override my cycle. Instead of shedding the lining of my uterus, I shed three layers of clothing and my panties!
I would have liked to have given him a Hallmark card that read "I Changed My Menstrual Cycle For You" with some crazy flowers, hearts and swirly graphics inside. I hope he appreciated the sentiment regardless.
These are the unspoken things you have to factor in when embarking on multiple relationships.
I'm happily married, have two lovers and a booty call in the wings. I have shit to schedule, yo.
Forget, for a minute, the intricacies of coordinating the calendars of all four of my men and their significant others. I'm talking about what goes on behind the scenes once you have the date.
Let me break it down for you in a one-month cycle:
4 men. 4 weeks. (heh, handy)
1 week to shed the lining of my uterus
3 days before that for bloated mess, acne, irritability and general blah
2-3 weeks for pubic hair growth to reach the appropriate grip length for hot wax.
2 weeks after said Brazilian appointment to take advantage of the smooth, tingly, sexified honey pot (not for everyone, I admit).
Oh, and for my dear friends with foot fetish partners, the pedicure!
You are a sexy beast regardless of your level of hirsuteness and your lovers should be comfortable with your hormonal blessings since they get the goods that come with the package.
This isn't Cosmo advice or expectations. It's real life scenarios for some of us! We don't want to settle for domestic bliss all of the time.
What is your maintenance routine?
Last month I pre-booked my waxing and scheduled a date with one of my lovers for the night after, only to get a phone call from another lover who had free time the night before that! Now let me ask you, have you ever tried booking a last minute Brazilian in this city? It's next to impossible!!!
I truly don't think most people understand that us adventurous spirits need wiggle room with our plans!
Thank the gods Sugar Box was open late and had appointments available; I was ok with the high price they charge for this specific convenience. Yes, I will pay for my sex.
As my gift to you I am sharing my favourite esthetician as well as the places I'll go to if she's booked (she's always booked). And that would be….
Siman (or Connie) at Linda's Urban Spa
1888 W 1st Ave
Vancouver
604-736-0030
lindasurbanspa.com
They wax bellybutton to tailbone and they are very thorough, including trimming landing strips and tweezing for resistant follicles. Siman is meticulous! <3 <3
 Sugar Box
1025 Cambie St.
Vancouver
604-569-1100
www.mysugarbox.com
Sugar Box doesn't double dip which is one of their claims to fame, it's also a very cute place and all the girls are super sweet, young and hip. Jane, the owner, is absolutely, adorably awesome.
Stripped
1990 W 4th Ave
Vancouver
604-566-9755
– or –
1226 Hamilton St
Vancouver
604-681-8660
www.getstripped.ca
Stripped is a quick-service, inexpensive wax shop that usually has last-minute appointments but they're none too thorough and definitely don't provide extra care or attention to your landscaping.
Both Sugar Box and Stripped do vajazzling!
Any other recommendations, throw them my way!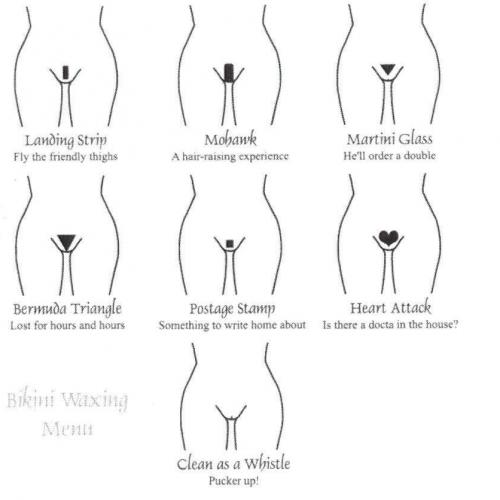 I like hair. I like running my fingers through hair and rubbing my palms against hair. I like facial hair, long hair, short hair, chest chair and pubic hair. I especially LOVE treasure trails! But I adore bare vulvas for the simple erotic tactile sensation of pouring lube over labia and sliding my hands over them, under them..in them. Yes, I like fisting, too. 😉
With summer upon us and all the outdoor festivities it offers, we will have to make some tough decisions about our bikini lines. Oi!
Until next time,
L. Tigre